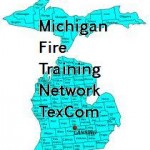 The Michigan Fire Training Network is a project initiated by the Michigan OSHA to develop and implement an online repository of training resources. The TexCom system fulfills this function and much more by allowing the posting of messages including questions relating to training and safety in the fire service.
The Michigan Fire Training Network TexCom is open to all levels of fire personnel in the State of Michigan. If you are a current user of TexCom and would like to join the Training Network, login and click My Profile then Membership and Add New Organization. You are requested to enter the Fire Department that you are associated with in the large text box. The Access Code is 255613 Pass along this information to your peers in the Michigan. If they are not current Users of TexCom, they would go to www.TexCom.com and click New User Signup where they will input the access code.
We at TexCom are thrilled to offer the system to enhance the training, communication, and safety in our Fire Service Family!
Be Safe!