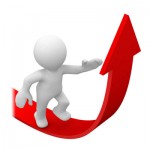 We have had overwhelming positive contact from Users that belong to multiple organizations using the TexCom system. We wanted to pass on information so that their enthusiasm may be realized by each of our thousands of Users in the Country. If you participate in any organization with an emergency support theme, don't hesitate establishing a TexCom for its use.
Expanding the use of TexCom to other organizations that you participate in greatly increases your communication capability. Not only does that organization benefit directly, use of the Share function allows you to easily share information with the other organizations that you belong to. This information may range from training articles, training opportunities, notices, fundraising, educational articles, and even job postings.There are users of all levels that belong to multiple TexComs. When you belong to more than one organization, you only need to login once and are able to view a snapshot and with a simple click, you may access another organization. Our biggest user is a triple Ace, belonging to 15 organizations using TexCom!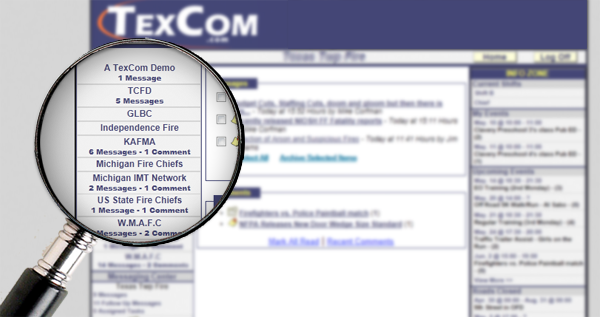 Establishing a TexCom for your organization is a simple three minute process and may be done by going to www.TexCom.com and clicking Organization Signup.  The following will give you some insight as to the wide variety of organizations using TexCom.
One organization path of multiple TexComs may be higher levels of an organization type such as Fire Department -> County Fire Chiefs -> Regional Fire Chiefs -> State Fire Chiefs.
Possibly organizations that you participate in within your area like the Fire Department, County Emergency Management, County Medical Control, or County Homeland Security Task Force.
Specialty response units are benefiting and include HazMat Teams, Search and Rescue, County Training Groups, Dive Teams, Victim Support, Critical Incident Teams, and SWAT Teams.
Educational organizations such as County Training Groups, Academies, Explorer Posts and Cadets, are common users of TexCom.
Others have set up TexComs for emergency response supportive organizations including Auxiliaries, Associations, Societies, Fundraising Support Groups, Clubs and more.
Take a couple of minutes to submit your Organization Signup so that you may maximize your communication effectiveness within multiple organizations!
Feel free to comment with the types of organizations that you belong to that are using TexCom.
Click here to subscribe to future blog posts by email